Farm Fresh Departments
Taste the Farm Difference
Our path is to taste and connect to the farm difference. We focus on finding good food, that tastes great... always. In doing so, we also connect our customers and our associates to farmers, food makers, and to the land.
Inside the store, you can find new and innovative foods in the Deli and Bakery, unique and delicious produce, local and speciality items in Grocery, Dairy and Frozen!
Visit a Harvest Market store today!
Seafood & Meat
Department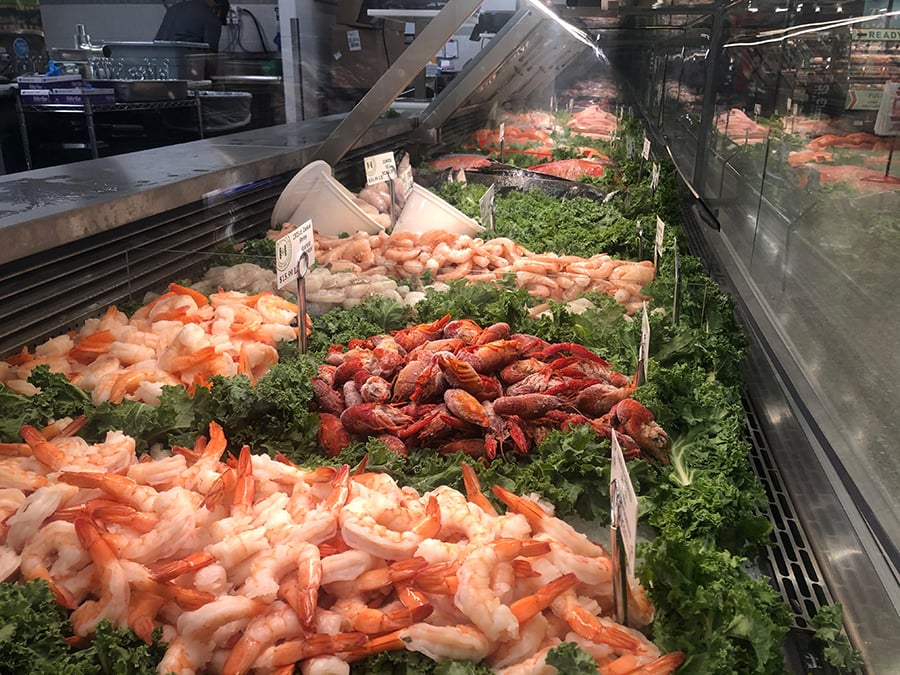 With such a knowledgeable team, we try all kinds of unique species and cuts. The cases are consistently changing!
Not sure where to start? Our team will cook it for you! Pick out your item and how you want it cooked, and we will cook it while you shop!
Connected to the land, connected to the sea. Our Harvest Market Meat Department delivers only the best, the freshest product you can find.
Fishmonger and Butcher
Custom cuts
Flown in fresh
Farm raised
Expert advice
Ready to cook
Korean BBQ Kalbi Beef
Recipe ready chicken
Kilgus Heritage Breed Pork
Niemann Ranch Beef
Taste the difference at the Harvest Market Bakery as we use locally sourced ingredients...farmed in the Midwest so it's fresher for you! Our hand crafted recipes are perfected with small batch baking everyday so we can deliver your favorites, seasonal specials and unique surprises, too!
Artisan breads
Fresh made cake donuts
Corn bread
Cobbler and buckles
Bread pudding
Buttermilk Biscuits (but wait...there's more!)
Harvest Market
Buttermilk Biscuits
Simply the best biscuit you'll ever have!
Our buttermilk biscuits are made from scratch everyday by our bakers. It's a classic biscuit recipe with flour, salt, baking powder, butter and buttermilk made better by using locally sourced ingredients.
The centerpiece of our biscuits is the delightful house churned butter and the creamy buttermilk that's created in the churning process. High quality, all-purpose flour gives the biscuit color and flavor. Baking powder makes sure the biscuit is wonderfully fluffy. And just the right amount of sea salt is added to give it that delicious flavor we have all come to love in our biscuits.
While quality ingredients are important to creating a scrumptious biscuit, the secret to crafting light and fluffy biscuits is the method. From perfectly timed refrigeration to folding the mixture instead of stirring, all the choices we make are to form mounds of dough that will have a lighter texture and flakiness.
Our dough is taken directly from a blast chiller to the oven and baked until the exterior is beautifully golden brown and the interior is fluffy and tender…biscuit perfection! To gild the lily, our biscuits are brushed with melted butter before being served.
Want one? Our buttermilk biscuits are served with restaurant entrees like Biscuits and Gravy and the Farmhouse Sandwich. They will also accompany Farmhouse Restaurant's soups, stews and casseroles. You can also get our biscuits individually or in quantities in our Bakery and are best served slathered with our house-churned butter. It's so good, you can't eat just one!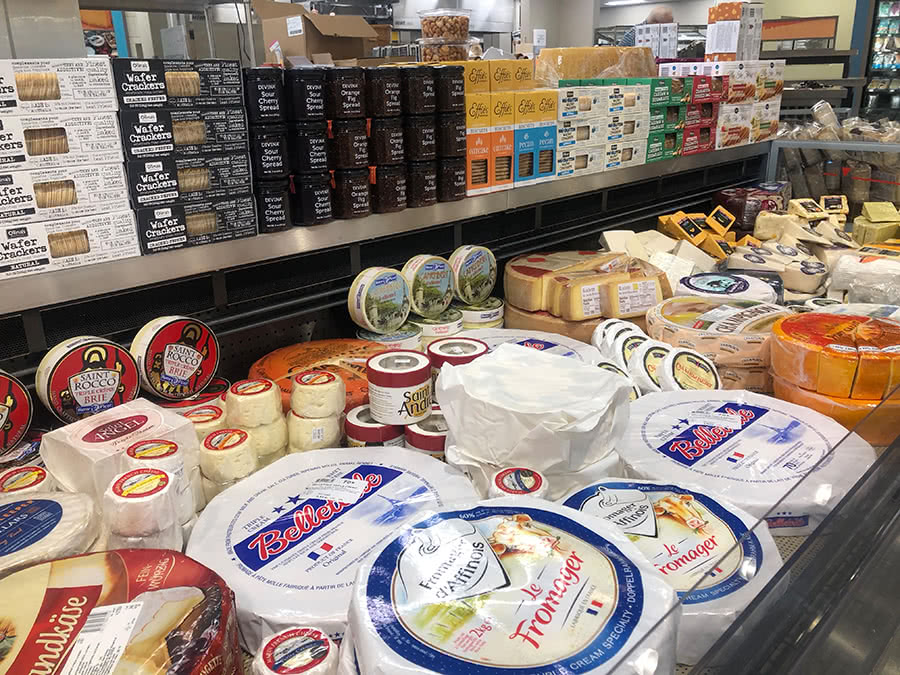 Cheeses from Around the World
Cheese lovers will LOVE this corner! Cheeses from every corner of the world, right here in Springfield. Not sure what wines and crackers to pair it with? Just ask our cheese monger.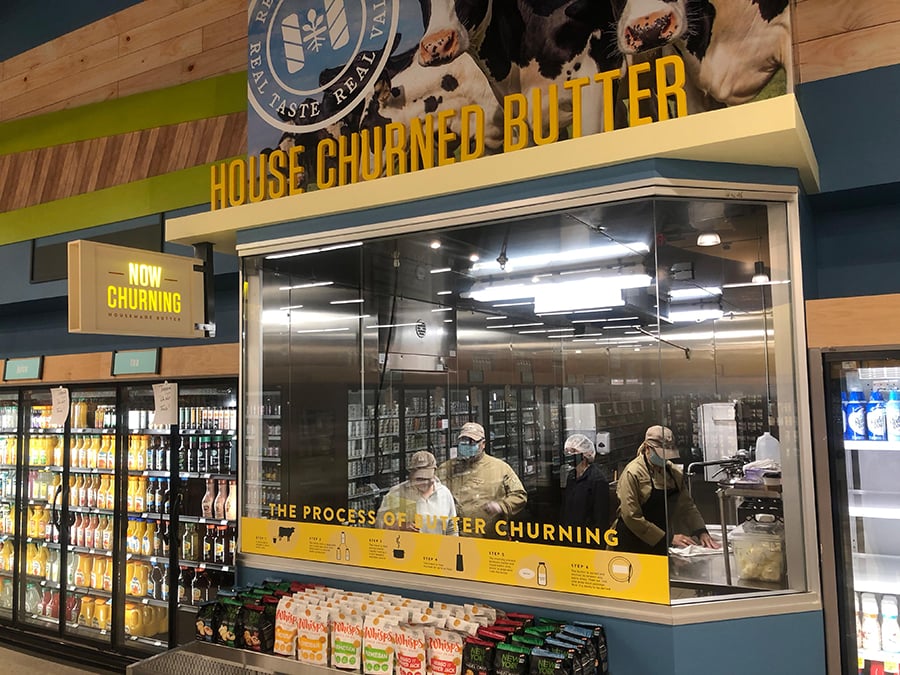 Fresh, In-House Churned Butter
We make fresh, churned butter right here in store! Made with cream from Rolling Lawns Farm, our team works to churn the butter and give you a variety of flavors, as well. Found in the Dairy Department!
Here's Our Process of Butter churning
Step 1

A dairy cow is milked to obtain whole milk.

Step 2

The whole milk is separated into cream and skim milk. Only cream is used for butter production.

Step 3

The cream is then pasteurized by rapidly heating it to kill bacteria and then cooled.

Step 4

The cream is then churned for an hour and a half.

Step 5

The churning process produces butter and liquid buttermilk, which is separated from the butter.

Step 6

The butter is salted and worked to release any extra whey. Then we roll and wrap each package. Now it's ready to be served.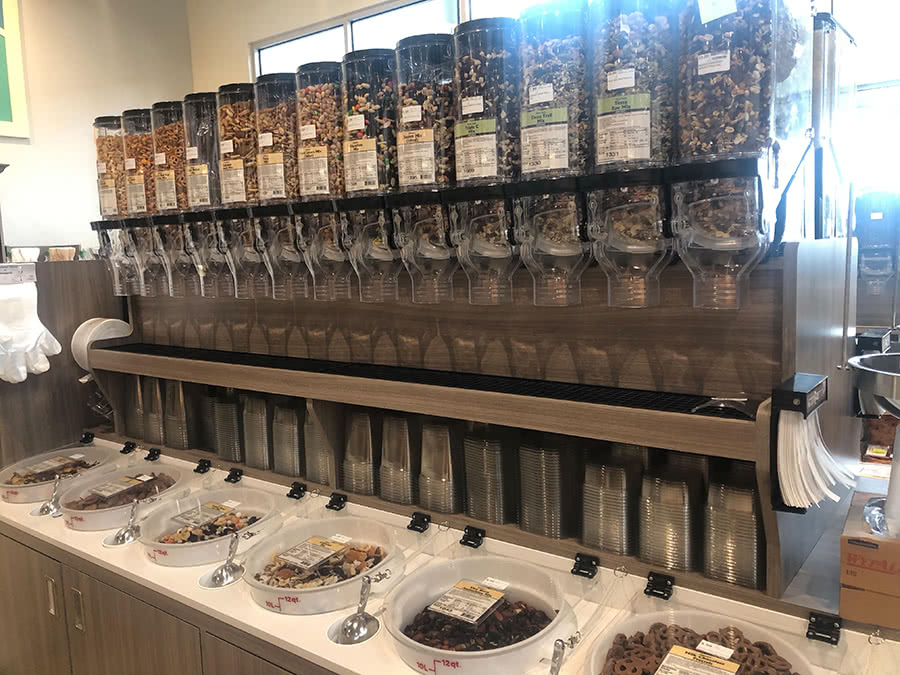 Shop our bulk section! From specialty flours, to trail mixes, and chocolate covered goodies, we've got it all. We also have a peanut butter churner! Pick between regular peanut butter, almond butter and honey roasted peanut butter and be on your way!