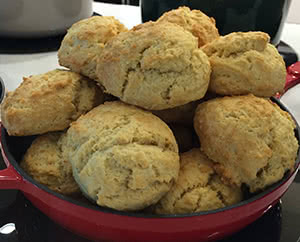 The Best Biscuit You'll Ever Have
October 3, 2016
Our buttermilk biscuits are made from scratch everyday by our bakers. It's a classic biscuit recipe with flour, salt, baking powder, butter and buttermilk made better by using locally sourced ingredients.
The centerpiece of our biscuits is the delightful house churned butter and the creamy buttermilk that's created in the churning process. High quality, all-purpose flour gives the biscuit color and flavor. Baking powder makes sure the biscuit is wonderfully fluffy. And just the right amount of sea salt is added to give it that delicious flavor we have all come to love in our biscuits.
While quality ingredients are important to creating a scrumptious biscuit, the secret to crafting light and fluffy biscuits is the method. From perfectly timed refrigeration to folding the mixture instead of stirring, all the choices we make are to form mounds of dough that will have a lighter texture and flakiness.
Our dough is taken directly from a blast chiller to the oven and baked until the exterior is beautifully golden brown and the interior is fluffy and tender…biscuit perfection! To guild the lily, our biscuits are brushed with melted butter before being served.
Want one? Our buttermilk biscuits are served with restaurant entrees like Biscuits and Gravy and the Farmhouse Sandwich. They will also accompany Farmhouse Restaurant's soups, stews and casseroles. You can also get our biscuits individually or in quantities in our Bakery and are best served slathered with our house-churned butter. It's so good, you can't eat just one!