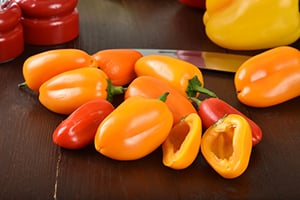 Stuffed Mini Sweet Peppers Recipe
January 11, 2017
Just because it's winter doesn't mean your meals have to be gray and bland. Take a moment and enjoy this stuffed mini sweet peppers recipe!
Color your plate with fruits and veggies to brighten your mood and for a boost of nutrients! The more color on your plate (from fruits and veggies- not skittles or candy…), the more nutritious your meal will be! In this recipe, colorful and sweet mini peppers are stuffed with chicken and fresh herbs for a delicious and satisfying snack or meal! Pair with a big green salad and whole grain crackers (like Triscuits) or brown rice for a balanced plate.
Happy and healthy eating!
Nutritional information (per pepper): Calories 40.0, Total Fat 1.9 g, Saturated Fat 1.1 g, Cholesterol 11.0 mg, Sodium 45.5 mg, Potassium 86.2 mg, Total Carbohydrate 2.1 g, Dietary Fiber 0.3 g, Sugars 1.2 g, Protein 3.3 g
Nutritional bonus: Excellent source of Vitamin C
Nutritional analysis completed using SparkRecipes. Seasonings not included in nutrition calculation
Ingredients
Approx. 36 Mini peppers
1 Bunch Chives
To taste Italian Seasoning/salt/pepper
8 oz. Neufchatel cheese, room temp.
1/3 Cup Parmesan cheese
2 Cups Shredded chicken
Instructions
Preheat oven to 400 degrees F. Prepare a baking sheet by covering with foil and spraying with nonstick spray.
Prepare the peppers by taking a small paring knife and creating a small slit on one side for stuffing.
In a bowl, mix together cream cheese, chives, seasonings, cheese and chicken.
With a small spoon, carefully stuff each pepper.
Place in oven and cook 20-25 min or until peppers are browned and filling is heated through.