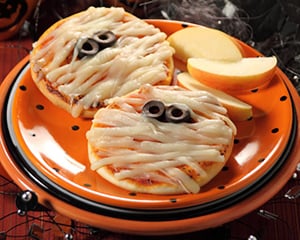 Mini Mummy Pizzas Recipe
October 26, 2016
This mini mummy pizzas recipe serves 4, 1 half English muffin each.
Nutritional info (per only include ½ eng muffin, ¼ cup sauce, 1 string cheese) Calories 150.0, Total Fat 6.0 g Saturated Fat 2.5 g, Cholesterol 15.0 mg, Sodium 570.0 mg, Potassium 0.0 mg, Total Carbohydrate 15.0 g, Dietary Fiber 2.5 g, Sugars 4.0 g, Protein 11.0 g
Nutritional Analysis completed using SparkRecipes
Serve with a side of whole grains such as quinoa or wheat berries, and steamed green beans or grilled asparagus.
Ingredients
2 Unsliced Whole wheat english muffins, split in two
4 Whole Mozzarella string cheese sticks
1 Small can Sliced olives
1 Cup Pizza sauce
Instructions
Optional: Diced green pepper, onion, spinach, mushroom, cooked 93% lean ground turkey or meat alternative
Preheat oven to 375. Line a baking sheet with parchment or aluminum foil.
Split apart each English muffin. Place in toaster or oven until warm and surface is slightly toasted.
Carefully place toasted English muffins on prepared baking sheets. Spread ~ ¼ cup of pizza sauce, or desired amount, on top of English muffin. If using any toppings, place over the sauce.
Pull apart string cheese into strips. Place on top of English muffin for a "mummy wrap" look. Leave a small space for the olive eyes!
Bake in the preheated oven for 8-10 minutes, or until cheese is melted.
Let cool slightly before serving.