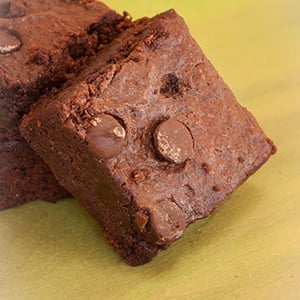 Kid-Approved Black Bean Brownie
February 17, 2017
Ingredients
15 oz. Can Black beans, rinsed and drained
3 Large Egg
3 T. Canola oil
3/4 Cup Sugar
1/2 Cup Unsweetened cocoa powder
1 t. Vanilla extract
1/2 t. Baking powder
1 pinch Salt
1/2 to 2/3 Cup Mini semi-sweet chocolate chips, divided
Instructions
Heat oven to 350 degrees F. Lightly coat an 8x8 inch baking pan with oil or cooking spray and set aside.
Place drained black beans in food processor and process until mostly smooth, stopping to scrape with a spatula 1 or 2 times to mix. To the processor, add the eggs, oil, sugar, cocoa powder, vanilla extract, baking powder and salt. Process until smooth.
Add ¼ - ½ cup of chocolate chips to processor and pulse a few times, just to incorporate.
Pour mix into prepared baking dish. Sprinkle with the remaining chocolate chips.
Bake in the oven for 30-35 minutes, or until the edges pull away from the sides and a toothpick inserted in center of the brownies comes out clean. Cool in pan a few minutes before slicing into 2-inch squares.