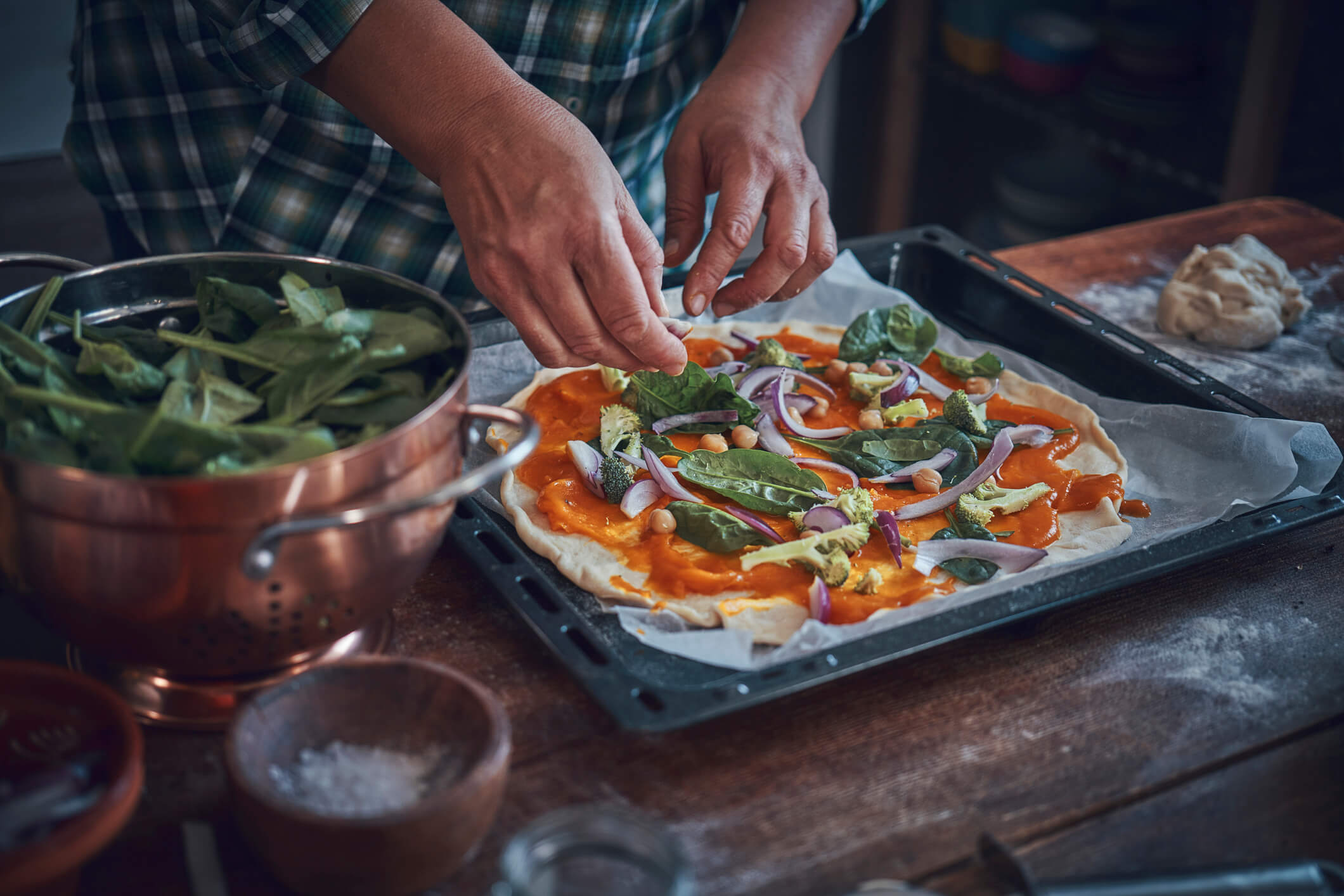 How to Make Homemade Pizza
December 14, 2021
Ingredients
1 packet fast rise active yeast
1 t. Sugar
3 1/4 cup All purpose flour
2 t. Olive oil
1 pinch Salt
1 1/2 cup Warm Water
Instructions
In a large bowl combine yeast, sugar and water. Let sit for about 10 minutes until foamy.
Add 3 cups of the flour, olive oil and the salt. Mix the dough with your hands or use a mixer with a dough hook, adding the remaining flour as needed to make dough that holds together- it should not be sticky or wet, but not dry and flakey.
Place the dough on a floured surface and knead it for about 10 minutes, or until the dough is soft and not sticky. Grease a bowl with the olive oil. Put the dough in the bowl and turn a few times to coat with the oil. Cover the bowl tightly with plastic wrap and let it rise for 2 hours in a warm place ( or in the fridge overnight!)
Preheat the oven to 425ºF.Punch down the dough and knead it for a few minutes on a lightly floured surface. Divide the dough in half and roll each piece out on a floured surface into a 12-inch round and place the rounds on lightly oiled pizza pans (the dough can be stretched to accommodate the pan size!)
For a par baked crust: baste tops of dough with olive oil and season with salt/cavenders and oregano. Bake for about 5-8 minutes, just until outside of dough feels hard to the touch. Remove from oven, let cool a bit and place desired ingredients on top!
Once topped, bake for 10-15 min, until cheese is bubbly and brown and crusts are crispy!
Additional Instructions / Information
What I used to top ( feel free to mix it up)
Dei fratelli pizza sauce
Spinach, torn into pieces
Diced yellow bell pepper
Canned artichokes- drained and squeezed dry- roughly chopped
Sliced mushrooms
Turkey pepperoni
Thinly sliced red onion
Italian shredded cheese
Dried oregano