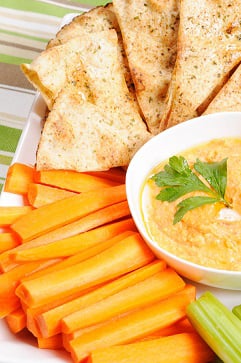 Homemade Hummus
November 22, 2016
One word: hummus. Ever since I discovered homemade hummus, I've been hooked. It is SO easy, incredibly delicious and super affordable to make. All you need is a powerful puree-er (food processor, blender, ninja) a few ingredients and deep love for garbanzo bean deliciousness. I love to serve hummus as an appetizer because it's so good, looks beautiful and is light enough that you won't ruin your appetite for dinner.
The recipe I'll share with you is very versatile and I encourage you to adapt it to your own flavor preferences. Before I get to the recipe, here are a few quick tid-bits on hummus:
The "base" of the recipe is really the chickpeas, tahini, lemon juice, olive oil, salt/pepper and garlic. If you enjoy "original" hummus, then you can just stick with this. If you, like me, enjoy a little something extra- that's where the veggies come in. I prefer roasting veggies first before adding to 1) make them easier to puree and 2) create an amazing depth of flavor provided by that amazing caramelization that roasting brings. Try carrots, butternut squash, sweet onions, beets, pumpkin- really any veg you like! Line a sheet pan with foil, cut the veg up into bite-size pieces, drizzle with a little olive oil, salt & pepper and roast for 20-30 minutes at 425 or until nice and browned (times may vary based on oven).
Do you and your guests a favor and taste as you go. You may find you need to add a little more lemon juice, pepper or salt- depending on what you like. Make sure to taste at least before serving.
You may find the hummus can get very thick and difficult to puree. I like to thin my hummus out with tablespoons of warm water. You can alternate between olive oil and warm water as well, but avoid adding too much oil or it will be *very* oily in taste and texture.
I suggest refrigerating your hummus before serving, at least for 30 minutes and up to 3-4 days. The hummus will thicken as it chills, FYI.
Beans are just amazing little things. They're loaded with vitamins, minerals, phytochemicals and a great source of protein and fiber (both insoluble and soluble- good for gut health and lowering cholesterol!). If you're looking for a "superfood"- here it is.
Crudités is basically a fancy term for raw veggies used for dipping. You can use whatever veggies you like- I put my favorites below.
I hope you enjoy this as much as I do! 
For the crudités
carrots, peeled and cut into sticks for dipping
broccoli florets
grape tomatoes
various colored peppers (orange, yellow, green, red) mini sweet peppers are perfect for this!
white or purple cauliflower florets
any other veggie of your choice!
Nutritional information per serving (serves 12) Calories 79.0, Total Fat 4.0 g, Saturated Fat 0.6 g, Cholesterol 0.0 mg, Sodium 286.5 mg, Potassium 117.3 mg, Total Carbohydrate 9.2 g, Dietary Fiber 1.9 g, Sugars 0.9 g, Protein 2.2 g
Nutritional bonus: Excellent source of Vitamin C & good source of manganese
Nutritional analysis completed using SparkRecipes
Ingredients
1 - 15 oz can Chickpeas, rinsed and drained
2 heaping T. Tahini
1/4 cup Lemon juice
6-8 mini Sweet Peppers, Assorted Colors
2-4 cloves Garlic
1/2 t. Salt
1/2 t. Pepper
1 T. Red Pepper, Chopped
1 t. (optional) Chopped Parsley
1-3 T. Olive oil
2-4 T. Warm Water
Instructions
Preheat oven to 450 degrees F. Cover a sheet pan with aluminum foil and place sweet peppers and garlic cloves on pan. Drizzle with olive oil, sprinkle with salt/pepper. Place in oven and cook until skins are brown and bubbly, about 10-15 minutes.
Carefully remove peppers from oven and let cool.
Combine ½ can chickpeas, tahini and lemon juice in food processor. Process until creamy and smooth, scraping bottom/sides with rubber spatula as needed. Add the rest of the chickpeas and continue to process until creamy, adding in warm water/olive oil if needed to create desired consistency.
Once peppers are cool, pull of the green tops (skins can stay on- they are thin and loaded with flavor!) With the blade running of the food processor, add each pepper followed by basil, minced garlic, salt and pepper. Puree until smooth. Add salt/pepper/lemon juice to taste.
Place hummus in serving dish. Top with a drizzle of olive oil, chopped red pepper and parsley for garnish, if desired.