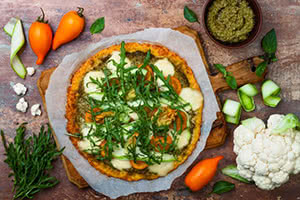 Cauliflower Pizza Crust Recipe
December 15, 2021
Ingredients
1 Head Cauliflower, cored and riced
1/4 Cup Parmesan, asiago or romano
1/4 to 1/2 Cup Shredded mozzarella cheese
2 to 3 Large Egg
1/2 t. Italian seasoning
1/2 t. Salt
1/2 t. Pepper
Dash of Dried red pepper flakes
Instructions
Rice the cauliflower in a food processor until fine.
Transfer to microwave-safe bowl and microwave high, 4-6 minutes, until steamy and cooked (will be very hot).
Let cauliflower cool enough to handle. Working with a fourth of the cauliflower at a time, cut cheese cloth in half, place cauliflower in center of cheesecloth and bring up sides to enclose cauliflower.
Twist and squeeze all of the liquid from the cauliflower. Transfer to a clean bowl. Do this step with the remaining cauliflower.
To the drained cauliflower add cheese, seasonings and eggs, mix well.
Preheat oven to 400 degrees F. Line pan (circle or rectangle- doesn't matter) with parchment paper, spray with cooking spray and sprinkle with cornmeal. Form the cauliflower mixture into a circle or square, even in thickness.
Bake in oven 15-20 minutes until firm, the cheese is bubbly and it's slightly browned.
Let cool completely before topping with desired toppings.
Once ready, top the pizza with your favorite pizza toppings and pop into a hot oven (400-425 degrees F) until cheese is melty, 10 minutes.