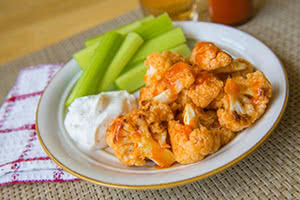 Buffalo Cauliflower Bites Recipe
December 15, 2021
Buffalo Cauliflower Bites
Ingredients
1 head Cauliflower, Cored and Florets
1 t. Kosher salt
1 T. Olive oil
2 T. Hot sauce, such as Frank's RedHot
1 T. Red wine vinegar
1 T. Butter, melted
1 T. Lemon juice
1 Pinch Salt and pepper
Instructions
Preheat oven to 450°F. Coat a large rimmed baking sheet with cooking spray.
Toss cauliflower, oil and salt in a large bowl. Spread on the prepared baking sheet; reserve the bowl. Roast the cauliflower until it's starting to soften and brown on the bottom, about 15 minutes.
Meanwhile, combine the remaining ingredients in a small saucepan and bring just to a simmer, stirring frequently for about 5-10 minutes. Transfer to a big bowl. Add the roasted cauliflower and toss to coat. Return the cauliflower to the baking sheet and continue roasting until hot, about 5 minutes more.
Blue Cheese Sauce
Ingredients
1/2 cup Nonfat Plain Greek Yogurt
1/4 cup EVOO based mayo
2-3 T. White Wine Vinegar
To Taste Salt
To Taste Pepper
To Taste Onion Powder
To Tast Garlic Powder
1/3 - 1/2 cup Crumbled Blue Cheese
On Top Green Onions
Instructions
Assemble all ingredients in a bowl and refrigerate until ready to use. Better if it sits a bit!