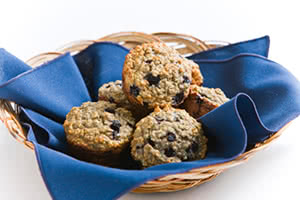 Breakfast Blueberry Oat Cakes Recipe
December 15, 2021
This recipe for blueberry oat cakes is adapted by EatingWell
Makes about 12 oat cakes
Ingredients
2 1/2 cups Old-Fashioned Rolled Oats
1 1/2 cups Milk
1 large Egg, Lightly Beaten
1/3 Cup Maple syrup
2 T. Canola oil
1 t. Vanilla extract
1 t. Ground cinnamon
1 t. Baking powder
1/4 t. Kosher salt
3/4 Cup Blueberries, fresh or frozen
Instructions
Combine oats and milk in a large bowl. Cover and let soak in the refrigerator until much of the liquid is absorbed, at least 8 hours and up to 12 hours (overnight)
Preheat oven to 375°F. Coat a 12-cup nonstick muffin tin with cooking spray.
Stir egg, maple syrup, oil, vanilla, cinnamon, baking powder and salt into the soaked oats until combined. Divide the mixture among the muffin cups (about ¼-1/3 cup each). Top each with 1 tablespoon blueberries. (* you can fill up to the top- these don't puff up much like a typical muffin)
Bake the oatmeal cakes until they spring back when touched, 25 to 30 minutes. Let cool in the pan for a 10 minutes. Loosen and remove with a small knife or spoon. Serve warm.