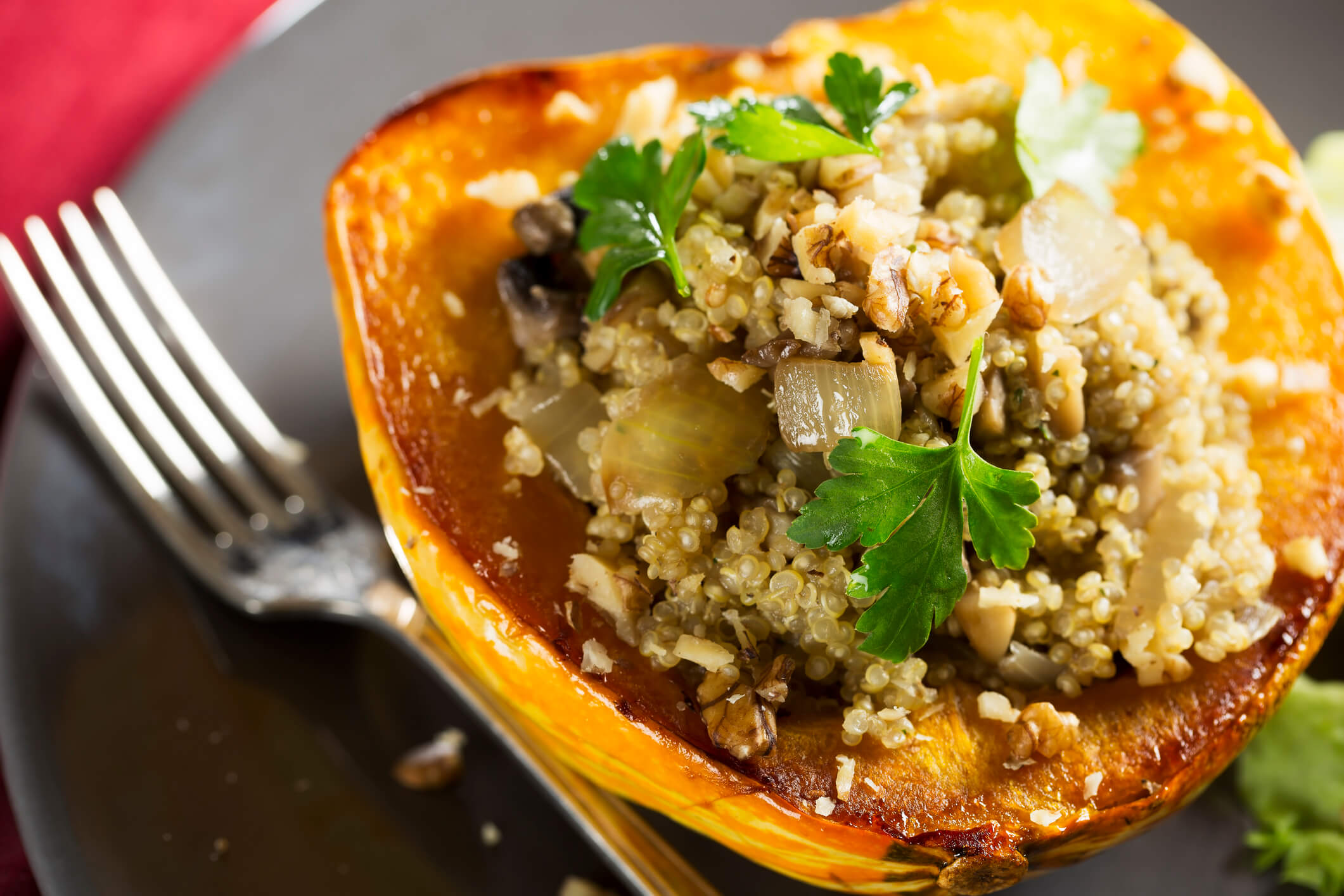 Apple & Sausage Stuffed Acorn Squash Recipe
October 20, 2017
Equipment needed for this Apple & Sausage Stuffed Acorn Squash Recipe:
Sharp knife and cutting board
Large skillet & wooden/silicone cooking spoon
Baking sheet & foil/cooking spray
Oven & oven mitts
*To make vegetarian: substitute sausage with meat alternative OR 1 large package (16oz) finely chopped mushrooms
*To make vegan: see above instructions for meat, in place of the parmesan cheese, use nutritional yeast or vegan parmesan cheese
* To make gluten free: choose a gluten free breadcrumb
Ingredients
2 regular Acorn Squash, halved, seeds scooped out and par-baked
A Drizzle Olive oil
To Taste Salt and pepper
1 lb lean Italian turkey or chicken sausage *
1 small Onion, diced
1 regular Leek, rinsed, tough leaves removed and sliced (optional- but worth it!)
2 cloves Fresh garlic, minced
2 large Celery Stalks, diced
1 regular Apples, diced (Granny Smith)
1 T. chopped fresh sage or 1/2 tsp dried sage
1 T. chopped fresh parsley or 1 tsp dried
1/2 cup plain bread crumb or panko (either will work)*
2 T. Lemon juice
1 pinch Nutmeg
1/4 t. Garlic Powder
1/4 t. Onion Powder
1 pinch Cayenne- for heat! If You don't like heat, you can leave this out
1/2 cup freshly grated parmesan cheese*
Instructions
Preheat oven to 420 degrees F. Line a baking sheet with foil or cooking spray.
With a sharp knife, cut off the top and bottom of each squash, removing as little as possible. Then cut the squash in half. Carefully scoop out the seeds with a spoon. Cut a small slice off of the back of the squash, so it sits flat on the baking sheet.
Drizzle a bit of olive oil in each half squash (or spray with cooking spray), spreading the oil evenly with your fingers or a brush. Sprinkle with salt and pepper to taste.
Place squash, open side up, on a baking sheet. Bake for 25-30 min depending on how big the squash is, until it's fork tender.
While the squash is baking, heat a skillet over medium heat. Sauté meat/meat substitute until cooked through. Remove from pan on paper towel lined plate.
Add onions and celery to the same pan, adding in a bit of olive oil if needed. Sauté onion and celery for about 3 minutes, adding a pinch each of salt and pepper. Add apples and garlic and saute another 2 minutes, until slightly softened, adding the pinch of nutmeg, cayenne (if using), onion powder and garlic powder.
Stir in sage, parsley, lemon juice and bread crumbs. Add 1/4 cup parmesan cheese and stir until cheese is just melted. Add back in the meat/meat alternative and stir to combine, seasoning a bit more with salt and pepper if needed.
Divide the mixture evenly between the 4 squash halves (you may have a bit of extra filling) Sprinkle with remaining parmesan cheese. Return to oven and cook for 10-15 minutes more, until cheese is melted and browned on top.