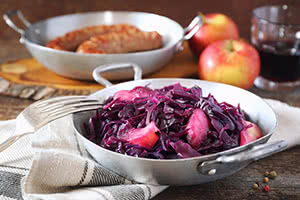 Turkey sausage with apples and braised cabbage
December 15, 2021
Recipe adapted from EatingWell- feeds about 4-6 people
Ingredients
2 T. Extra virgin olive oil
1 1/2 Pound Red cabbage, cut through the core into 6 wedges
1 Pound Italian turkey sausage (Honeysuckle sweet Italian turkey sausages are great!)
1 Medium Onion, halved through the core and thinly sliced lengthwise.
1 or 2 Medium Granny smith apples, cored and cut into 1/2 inch wedges.
To Taste Salt and pepper
1/2 Cup Apple cider vinegar
1 Cup Apple cider
1 t. each Fresh thyme and sage, chopped
Instructions
In a large, deep skillet (with a lid) heat the olive oil over medium heat. Add the cabbage wedges cut side down and cook over moderate heat, turning once, until browned, 6 to 8 minutes total. Transfer to a plate.
Add the sausages to the skillet and cook over moderate heat, turning every couple of minutes with tongs until cooked and browned on the outside.
Add the onion and a generous pinch of salt and cook, stirring occasionally, until softened and just starting to brown.
Stir in the vinegar and simmer over moderately high heat until reduced by half, about 3 minutes.
Add the cider and bring to a boil. Nestle the cabbage wedges in the skillet and the apples on the very top. Cover with lid and braise over moderately low heat, turning once, until tender, about 20 minutes. Season with salt/pepper to taste.