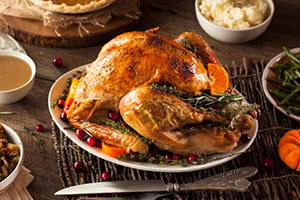 How to Cook Your Triple S Farm Turkey
November 6, 2016
Have you reserved your Triple S Farm turkey yet? Try to get one of the 50 best birds you'll ever have. But after you get it, what's the best way to cook it? We've got the instructions, straight from the farmer himself, Stan Schutte!
You might notice right off the bat that your turkey looks different – it has darker skin, like it's been outside catching some rays, and may have a few dark pinfeathers fall right out. If they bother you, you should be able to pull them out with a pair of needle nose pliers, but you don't have to.
Allow one day per 4 lbs of meat to thaw in the refrigerator.
Stan recommends brining your turkey before roasting it. You can buy brine mix at Harvest Market when you pick up your bird.
Unwrap your bird from its plastic wrap then place the bird back in to the thick plastic bag that your turkey was delivered in.
Pour brine water over your turkey in the plastic bag. Two gallons of brine should be enough to cover up to a 15 lb bird. If you have a larger bird, add a bit more water to cover the turkey. Close the end of the bag up with the included rubber band or keep end of bag upright to keep from spilling water.
Place the turkey in a cool spot, 40 degrees of cooler, that is large enough to accommodate your turkey. This may not fit in your fridge if you have a really large bird. A large ice chest sometimes can work, you can add ice right to it around the turkey to keep it cool, or if it is cool enough outside, you can keep it there.
Once your turkey in its bag with the brine and placed in its cool spot, allow it to sit as follows:

Less than a 12 lb turkey – 4 to 8 hours
12 – 16 lbs – 6 to 10 hours
16 – 20 lbs – 8 to 12 hours
More than 20 lbs – 12 to 24 hours

When you are ready to start cooking the turkey, take it out of the brine, rinse the bird and pat it dry.
Preheat your oven to 350 degrees.
Plan on roasting an unstuffed turkey for 15 minutes per pound ( a 12 to 16 pound turkey would take 3 to 4 hours) and a stuffed turkey for about 20 minutes per pounds.
Your target temperature when roasting the turkey is 165 degrees in the center of the breast meat. Stan recommends basting the turkey every 1/2 hour to every hour, using drippings or butter. If you do not stuff your turkey, you may consider cutting up an onion and a half stick of butter and putting both in the cavity of the turkey.
Take your turkey out and enjoy!