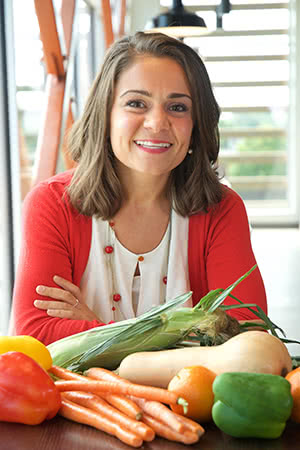 Why I Became a Dietitian
September 23, 2016
I've always had a longstanding, deep-rooted love for food. I grew up in a big family where food was always the centerpiece at family gatherings. My fondest memories are of my Grammy cooking big batches of soup, my mom filling the big wooden salad bowl (that my Papa turned in his workshop) with greens and tomatoes from the garden and, of course warm, crusty bread. Most of my family had luscious gardens growing in their backyards and my summer days were spent noshing on ripe tomatoes and crisp kohlrabi plucked straight from the garden. I was lucky to have a connection to the land and very good food from a young age.
I chose the path of nutrition and dietetics because of my love for good food, cooking and an innate interest in the human body and how the foods we eat play such a critical role in how our bodies function and feel. I completed my Bachelor's and Master's degrees at Eastern Illinois University, gaining incredible knowledge and experiences including studying Italian culture and cuisine in Florence, Italy.
I started my career in clinical dietetics working in a hospital setting, as many Dietitians do. However, my dream was always to end up in retail dietetics where I could teach people how to cook, how to decipher the latest nutrition information and be able to prepare a healthful, well-balanced meal for themselves and their families. I believe there is no better place for a dietitian than in the grocery store, to be available as you're meal planning, ingredient-searching and wondering "how can I cook an affordable, healthy and tasty meal for my family?" My goal is to share with you how delicious 'good-for-you' foods can be, how easy they are to prepare and how powerful they are in nourishing our bodies and minds. Ultimately, I want to help people fall in love with their food!
Just as Harvest Market vows to be transparent and honest, so do I.
I truly do "practice what I preach" because what I do is not simply a job, but a way of life. All of the recipes, tips and advice I share is from both my years of education as well as what I do in my everyday life. I also acknowledge that we all have our own definition of what a healthy lifestyle looks and feels like. I want to be your reliable, go-to resource for all things food and nutrition, from sharing recipes to providing you with the knowledge and skills to achieve your nutritional and dietary goals, whatever they may be.
I will be offering many services in-store as well as in the community- for free! Make sure to stop by Harvest Market during our grand opening, Thursday October 6th, to meet me and find out some upcoming events I'm planning! Always feel free to email, call, or stop by the store with any questions you may have.
Healthy Regards,
Emily