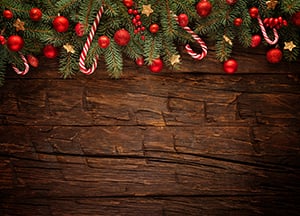 Emily's 5 Top Tips: Staying on track during the holidays
November 23, 2016
We all know the holiday season brings about some of the most decedent dishes and meals with rich ingredients, which makes it easy to lose track of all of the healthy progress we've made this year! Fortunately, there are ways to stay healthy during the holiday season – here are my 5 top tips:
1. Lose the "all or nothing" attitude. Do you have the "Well I've already had a piece of cake, I might as well have another one" mentality? Eating healthy isn't about restricting to the point of frustration then binging on a half a cake. A healthy lifestyle is all about balance and that means including your favorite, indulgent dishes every once and a while. Some of your most favorite foods are most likely served around the holidays- so enjoy them! Allow yourself a smaller portion of these items and take the time to truly enjoy them with the people you love.
2. Don't skip meals. Many people will skip breakfast or lunch in anticipation of a big feast for dinner. Thinking this is a "healthier" choice, you may actually be doing more harm than good. If you restrict yourself all day, you'll most likely be very hungry and overeat more than you normally would during the meal. Instead, focus on eating at regular meal times and include fruits, vegetables, whole grains and lean protein for the meals earlier in the day.
3. Get active. This is a good rule of thumb any time of year, but maybe especially during the holidays. The American Heart Association recommends at least 30 minutes of moderate-intensity aerobic activity at least 5 days per week for a total of 150 minutes 1. Remember- any activity counts! Raking leaves, shoveling the sidewalk, taking a brisk stroll- even dancing to your favorite holiday tunes! If you enjoy what you're doing – or you're accomplishing something at the same time- you're most likely to stick with it.
4. Limit the drinks. What's a celebration without a fun drink?! Now, I'm not saying completely stay away from the cocktails and wine, but be smart about your choices and keep portions in check. If you know you like to have wine with dinner, sip on some sparkling water with fresh fruit during appetizers. Choose smaller wine glasses to make you more aware of how much you're drinking and remember to sip water in between drinks. Check out EatingWell for healthier alcoholic drink recipes.
5. Sleep. The holidays can be a crazy time, full of hosting parties, cleaning, preparing, cooking, and shopping. A growing body of research suggests there's a correlation between sleep and health, including increased risk of developing heart disease, high blood pressure, obesity and diabetes when adequate sleep isn't in the picture. There's also evidence that suggests we may likely to eat more when we have lack of sleep be sure to get enough shut eye.
Questions, comments, suggestions, recipe or meal ideas? Email me at edupuis@goharvestmarket.com!
Emily Dupuis, MS, RDN, LDN is the Registered Dietitian for Harvest Market. Emily is licensed in the state of Illinois and received her Master's Degree in Nutrition and Dietetics from Eastern Illinois University. She is a member of the Academy of Nutrition and Dietetics, the world's largest association for nutrition professionals and adheres to their Code of Ethics.
American Heart Association (2014). American Heart Association Recommendations for Physical Activity in Adults. Retrieved from: http://www.heart.org/HEARTORG/HealthyLiving/PhysicalActivity/FitnessBasics/American-Heart-Association-Recommendations-for-Physical-Activity-in-Adults_UCM_307976_Article.jsp#.WDW7ES0rKpo
Breeding, Z. (2014). Sleep: An ingredient for a Healthy Life. Retrieved from: http://www.heart.org/HEARTORG/HealthyLiving/Physic…